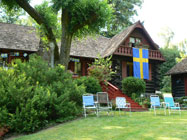 Cultural Events and Activities
Throughout the year we provide our members with many cultural events and activities.
2018 Event Calendar
January 9 - March 31
Raoul Wallenberg exhibit at Nordia House (until March 31)
"To me there's no other choice." This was Raoul Wallenberg's response when asked to aid Hungarian Jews during WWII. Members Barry and Darlene Peterson, and E-Print with support from Nordic Northwest, sponsored the exhibit currently on display at Nordia House, to recognize the humanitarian efforts made by this inspirational man.
March
Member Appreciation Meeting on March 18
Membership Appreciation Day meeting, 3:00pm-5:00pm, West Hills Unitarian Church, 8470 SW Oleson Rd., Portland.
New Sweden welcomes its members to the Annual Member Appreciation Meeting at the West Hills Unitarian Universalist Fellowship on Sunday, March 18 at 3pm. This year we will be served traditional Swedish ugnspannkaka (oven pancake) and hear a presentation from Sue Grandjean, the president of the Portland Orienteering club (orienteering is a sport).
April
Valborsmässoafton (Walpurgis night) on April 30
Walpurgis "Valborg" Celebration, a tradition in Sweden on April 30, when communities gather to celebrate the arrival of spring with a bonfire and singing. 7:00pm at the home of Connie and Morgan Pope, hot drinks and korv, dress for the weather. 503-807-9808 for more info.
May
May 11 & 12: New Sweden's Annual Garage, Antique and Plant sale
Now is the time to begin setting aside those unwanted "treasures" for the May 11-12 yard sale. Make arrangements with Ross Fogelquist, 503-244-3697, to drop off your items.
June
Portland Star Light Parade, June 2
Portland Star Light Parade with the Swedish League's 90th Anniversary Viking Ship float
Midsummer Festival, June 9
Portland Midsummer Festival 90th Anniversary, Oaks Park, Portland
Fogelbo Family Midsummer (1938-2018) Celebration and Ross's 80th birthday.
Decorate and dance around the Midsummer pole, potluck dinner, birthday cake and dance at Nordia House to the music of Kim Majors and Friends. RSVP to Kristi at 503-663-2772.
August
Kraftskiva Party, Saturday, August 4, 6pm - midnight.
New Sweden & Scandia's Kraftskiva Party, tickets purchased in advance. Fogelbo, 9720 SW Oleson Rd., Portland
Traditional Bengt's Kraftskiva party in the garden at Fogelbo. Tickets/reservations in advance. Meatballs, herring, bread, lingonberries and crayfish provided. Bring your Scandinavian potluck food item which should serve 6-8 people. For more information, call Pam Martin, 503-984-9683. $20 for New Sweden, Skandia Lodge members, $25 non-members.
The Viking ship float, August 11
Astoria Regatta with the Viking ship float, Astoria, Oregon
Swedish Language and Culture Camp, August 20 - 25
Swedish Language and Culture Camp, children ages 7-13
For information about the Swedish Language and Culture Camp, please visit Trollbacken.org.
December
Scan Fair
Portland Memorial Coliseum Exhibit Hall
December 1, 10:00am-5:00pm,
December 2, 10::00am-4:00pm
Adults $10, families $20, children under 12 are free, seniors & students $9
The 34th year for this holiday fair celebrating the crafts, food, and traditions of the Nordic countries. New Sweden will have our club's booth and the League of Swedish Societies again will sell their famous Rice Pudding. The 2019 Lucia court will be introduced and the Lucia queen announced on Sunday. Visit www.nordicnorthwest.org/scanfair for more information.
Lucia Fest
Portland's First Presbyterian Church, 1200 SW Alder St., Portland, OR.
December 8, 3:00pm (doors open at 2:30), convenient parking. Adults $10, children $5, families $25
You are invited to enjoy a beautiful traditional pageant and music of the season by the children of Portland's Swedish School, the Oregon 2018 Lucia Court, the Scandinavian Men's Chorus and the Scandia Ladies Chorus, and vocal soloists. Following the program there will be customary singing and dancing around the Christmas tree, a visit by Tomten, glogg, coffee and beloved baked goods.
Julotta
December 25, 7:00am, First Immanuel Lutheran Church, 1816 NW Irving, Portland, church service in Swedish