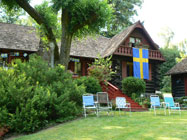 Cultural Events and Activities
Throughout the year we provide our members with many cultural events and activities.
2017 Event Calendar
April
Valborgsmassoafton Celebration (Walpurgis Night), April 30
( Walpurgis Night)- This traditional Swedish celebration welcomes the coming of spring and the end of winter with singing around a bonfire. The Scandinavian Chorus will join us as well as members from other Swedish groups. Korv (hot dogs) and coffee, tea and juice will be served. Join the fun at the property of Connie and Morgan Pope, 33411 SW Laurel Rd., Hillsboro, OR 97123. 7:00pm, Sunday, April 30th. Wear appropriate clothing for the weather. Some people may want to bring a folding chair. Should extreme weather be predicted, the event could be cancelled- check your emails and/or the New Sweden website.
May
May 21 Joint Meeting
Marianne Bratt will tell about her family's shipping company in Sweden and the role it played during WWII. While Sweden officially remained neutral, Marianne's father sided with the Allies and used his fleet of ships to deliver food and cargo to Northern Europe. In doing so, his ships were attacked and he lost half his fleet. Marianne gave this talk a year ago at the NNW Friday Lecture series and it was described as one of the best.
Harmoni Lodge has invited New Sweden to join them for this presentation on May 21st, at 4:45pm, at the Hollywood Senior Center, 1820 NE 40th Ave, Portland, 97212. Afterwards, socialize and enjoy pizza, beer, wine or soda (no host tip jar). Some on-street parking available, or paid parking behind the building.
JUNE
Annual Antique and Garage Sale at Fogelbo, June 2 & 3
Spring cleaning is a great time to get rid of those unwanted or unneeded extras and help New Sweden at the same time. Gather those goodies and call Ross Fogelquist, 503-244-3697, to arrange a drop off after May 15th.
Scandinavian Midsummer Festival, June 10
June 10 - Saturday, 11:00am-6pm, Scandinavian Midsummer Festival at Oaks Park, Portland.
AUGUST
Kraftskiva Crayfish Party, August 19
August 19 - Saturday, annual Kraftskiva Crayfish Party, at Fogelbo, tickets purchased in advance.
Swedish Language and Culture Camp, August 15-20
August 15-20 - Trollbacken, Swedish Language and Culture Camp for children, ages 7 - 13.
DECEMBER
Scan Fair, December 2 & 3
Dec 2 & 3 - Scandinavian Fair.
Lucia Fest, December 9
December 9 - New Sweden's Lucia Fest, First Presbyterian Church, Portland.